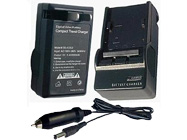 Click to enlarge
Item:

CR-V3P Casio Battery Charger
Part Number:
Casio CR-V3P
EPM Code:
Casio.CR.V3P.AC.charger
Specs

Slim, lightweight, and stylishly designed mini rapid travel charger plugs directly into AC wall outlet and charges your digital camera or camcorder batteries in approximately 60-90 minutes.
Its unique flat pin, foldable design allows easy storage and makes it the most compact battery charger on the market.
The kit includes a 110-240V AC power source and a DC car adapter for charging while driving.
Smart charging LED indicator automatically turns to trickle charge after fully charged.
Auto switching power voltage from 110V-240V AC.
Constant voltage and current charging.
Output short circuit and electronic shock protection.
Warranty:
Meets or exceeds OEM specifications and performance backed by 1 year replacement warranty
Compatible model list:
Casio GV-3EX
Casio GV-20
Casio QV-10
Casio QV-10A
Casio QV-11
Casio QV-30
Casio QV-100
Casio QV-200
Casio QV-300
Casio QV-700
Casio QV-770
Casio QV-2000UX
Casio QV-2100
Casio QV-2300UX
Casio QV-2400UX
Casio QV-2800UX
Casio QV-2900UX
Casio QV-3500
Casio QV-3000 PLUS
Casio QV-3000EX
Casio QV-3000lr
Casio QV-3500 PLUS
Casio QV-4000
Casio QV-4000EX
Casio QV-5000
Casio QV-5700SX
Casio QV-8000SX
Ask a question about this product:
End user clicks here to see more product information from EPM online dealer directly.
Reseller clicks here to request more product information from EPM Battery & Charger Wholesale.
CR-V3P Casio Battery Charger Wholesale, it replaces Casio CR-V3P.