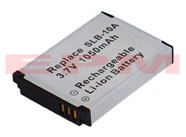 Click to enlarge
Item:

SLB-10A 1200mAh Samsung L100 L110 L200 L210 M100 M110 P1000 P800 PL50 PL60 PL70 SL620 SL720 SL820 WB500 WB550 HMX-U10 HMX-U100 Battery
Part Number:
Samsung SLB-10A, EZ-CBATT069, 4302-001221, 044701009597
EPM Code:
Samsung.SLB.10A.battery
Dimensions:
43.65x31.65x7.32mm
Brand:
Warranty:
Meets or exceeds OEM specifications and performance backed by 1 year replacement warranty
Compatible model list:
Samsung ES50
Samsung ES55
Samsung ES60
Samsung ES63
Samsung HMX-U10
Samsung HMX-U100
Samsung HMX-U100BN
Samsung HMX-U100EN
Samsung HMX-U100RN
Samsung HMX-U100SN
Samsung HMX-U100UN
Samsung HMX-U10BN
Samsung HMX-U10BP
Samsung HMX-U10EN
Samsung HMX-U10EN/QVC
Samsung HMX-U10RN
Samsung HMX-U10SN
Samsung HMX-U10UN
Samsung HZ10W
Samsung HZ15W
Samsung IT100
Samsung L100 (not SC-L100 camcorder)
Samsung L110
Samsung L200
Samsung L210
Samsung L310W
Samsung L313
Samsung M100
Samsung M110
Samsung M310W
Samsung NV9
Samsung P1000
Samsung P800
Samsung PL50
Samsung PL51
Samsung PL55
Samsung PL57
Samsung PL60
Samsung PL65
Samsung PL70
Samsung SL102
Samsung SL105
Samsung SL202
Samsung SL203
Samsung SL310
Samsung SL310W
Samsung SL420
Samsung SL502
Samsung SL620
Samsung SL720
Samsung SL820
Samsung TL9
Samsung WB150
Samsung WB150F
Samsung WB151
Samsung WB151F
Samsung WB152F
Samsung WB500
Samsung WB550
Samsung WB690
Samsung WB700
Samsung EC-WB700ZBPBCA
Samsung EC-WB700ZBPBUS
Samsung EC-WB700ZBPPCA
Samsung EC-WB700ZBPSCA
Samsung WB710
Samsung EC-WB710ZBPBE3
Samsung WB750
Ask a question about this product:
End user clicks here to see more product information from EPM online dealer directly.
Reseller clicks here to request more product information from EPM Battery & Charger Wholesale.
SLB-10A 1200mAh Samsung L100 L110 L200 L210 M100 M110 P1000 P800 PL50 PL60 PL70 SL620 SL720 SL820 WB500 WB550 HMX-U10 HMX-U100 Battery Wholesale, it replaces Samsung SLB-10A, EZ-CBATT069, 4302-001221, 044701009597.