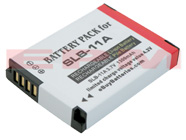 Click to enlarge
Item:

SLB-11A 1300mAh Samsung CL65 CL80 HZ25W HZ30W HZ35W ST1000 ST5000 ST5500 TL240 TL320 TL350 TL500 WB100 WB600 WB610 WB650 WB660 WB1000 WB2000 WB500 Battery
Part Number:
Samsung SLB-11A, SLB-11EP, 4302-001226
EPM Code:
Samsung.SLB.11A.battery
Dimensions:
43.4 x 31.7 x 7.4 mm
Warranty:
Meets or exceeds OEM specifications and performance backed by 1 year replacement warranty
Compatible model list:
Samsung CL65
Samsung CL80
Samsung EC-CL80ZZBPBUS
Samsung EX1
Samsung HZ25W
Samsung HZ30W
Samsung HZ35W
Samsung HZ50W
Samsung EC-HZ50WZBPAUS
Samsung ST1000
Samsung ST5000
Samsung ST5500
Samsung TL240
Samsung EC-TL240ZBPBUS
Samsung EC-TL240ZBPAUS
Samsung TL320
Samsung TL350
Samsung EC-TL350ZBPBUS
Samsung TL500
Samsung EC-TL500ZBPBUS
Samsung WB100
Samsung EC-WB100B
Samsung EC-WB100BBP/E3
Samsung WB600
Samsung WB610
Samsung WB650
Samsung WB660
Samsung WB1000
Samsung WB2000
Samsung WB5000
Samsung WB5500
Ask a question about this product:
End user clicks here to see more product information from EPM online dealer directly.
Reseller clicks here to request more product information from EPM Battery & Charger Wholesale.
SLB-11A 1300mAh Samsung CL65 CL80 HZ25W HZ30W HZ35W ST1000 ST5000 ST5500 TL240 TL320 TL350 TL500 WB100 WB600 WB610 WB650 WB660 WB1000 WB2000 WB500 Battery Wholesale, it replaces Samsung SLB-11A, SLB-11EP, 4302-001226.